From The Principal's Desk
Dear Parent
Season's Greetings !

"We are what our thoughts have made us; So take care about what you think Words are secondary. Thoughts live; They travel far"
-Swami Vivekananda
We are living in a world facing unprecedented challenges and aiming at a phenomenal growth in emerging technologies and innovations in education.
At KVM, we prepare future ready students who have self directioning skills with thinking brains to become a skillful global citizen. Every child is unique with infinite possibilities. We need to create a suitable environment for their discovery of themselves through self-learning process while thinking out of the box. We develop their observation skills to infer differently without any prejudices and dare to express the same fearlessly.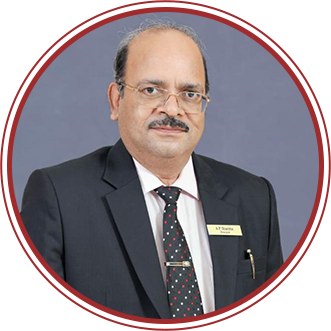 They must look at every problem and hurdle as an opportunity to prove and discover their own hidden dimensions of capabilities and competencies. As envisaged by our founder, Late Shri Kundan Lal ji, the school boasts of its learner centric holistic curriculum which allows a child to learn from collaboration and risk taking.
"When the going gets tough, the tough get going"
We try to hone our students' skills to maintain patience and to bounce back during testing times as we experience our greatest growth and build resilience during these tough times. This develops them as a person with growth mind set who always show gratitude and remains humble in all situations.
When we take the time to strategically plan, forge positive relationship, celebrate our achievement and continue to build on our successful foundation, we can foster a learning environment wherein our entire KVM community thrives.
We ensure their intellectual literacy and hone conflict resolution skills to grow in a social environment with responsibility and human values. We provide wings of values to our children to soar high in the direction of their dreams.
Education must prepare learners beyond academics to nurture the values and mould them as good human beings by acquiring empathy, compassion and care.
We believe in a happy student, happy teacher and happy parent to make the school A HAPPY SCHOOL.
I believe "Happiness is not achieved by the conscious pursuit of happiness; It is generally the by-product of other activities one gets involved."
(Mr. A.P. Sharma)
PRINCIPAL & DIRECTOR ACADEMICS
Kundan Vidya Mandir Senior Secondary School,
Rajpura Road, Civil lines,
Ludhiana - 141001